---
本文
Katsuyama Tourism Gateway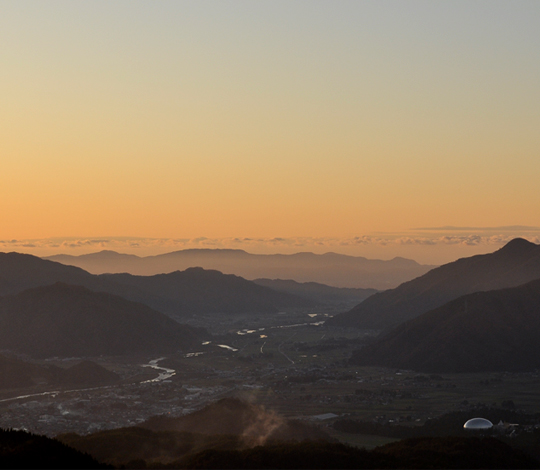 Katsuyama is a rural city of about 25,000 people located in the northeastern corner of Fukui Prefecture, a region blessed with abundant natural beauty. Surrounded by soaring mountains over 1,000m high, the city is located in a valley basin carved out by the Kuzuryu River, the largest river in Fukui.
Since the beginning of the 20th century the main industry in Katsuyama has been textile production, and the agriculture and forestry sectors are particularly active as well. Special foods from Katsuyama include rice, melons, mizuna (potherb mustard), taro potatoes, and soba noodles with grated radish. Katsuyama boasts a wonderful natural environment and many cultural assets, and it also takes pride in being ranked as the 9th cleanest city in the world by Forbes Magazine in 2007. Furthermore, in recognition of the numerous dinosaur fossils found and the unique geological features of the area, Katsuyama became a Japan Geopark in 2009.
Dinosaur Valley Fukui Katsuyama Geopark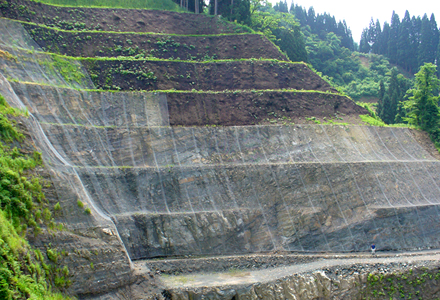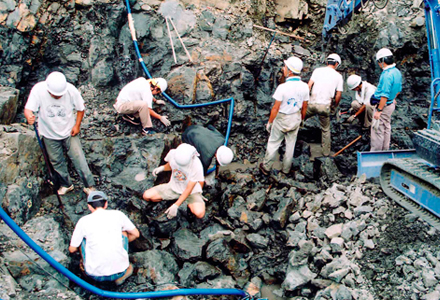 This Geopark encompasses the entire Katsuyama region, with dinosaurs and dinosaur fossils being the main theme. Katsuyama is one of the most prominent dinosaur fossil areas nationwide. Fukui Prefecture has been conducting fossil digs and research since 1989, and countless valuable fossils of academic importance from the early Cretaceous Period have been discovered within the Tetori Stratum.
The sub-themes of this Geopark are 'Volcanoes and Volcanic Activity' and 'The Interaction between Geological Resources and Human Life. 'This Geopark strives to make the entire region a comprehensive geopark where visitors can see with their own eyes and experience firsthand the wonder of the earth's activity.


Katsuyama Castle Museum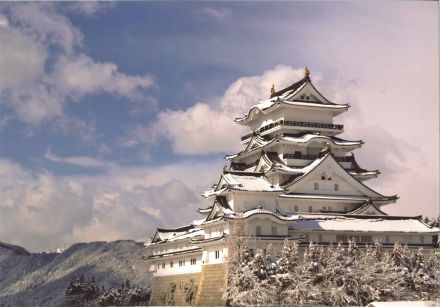 This 6-floor castle has a total height of 57.8m, making it the tallest in all of Japan. Here you can find countless cultural and historical artifacts which highlight over 700 years of history in the area. The exhibits feature many important artifacts gathered from all over the country, including many classic swords from the Kamakura period. The castle also features a tea room and library, as well as an observation deck on the 6th floor with spectacular views of Katsuyama, the Echizen Giant Buddha, and the Haku mountain range.
Heisenji Shrine National Historic Site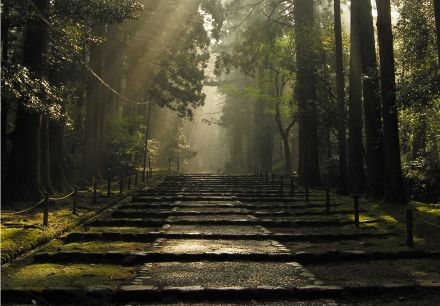 Founded in 717 AD by Taicho Daishi, this shrine once was the home to over 6,000 Buddhist monks. Today, it is a tranquil shrine best known for the lush carpet of green moss covering the grounds, lending it the nickname 'Moss Palace.' Its long history and beautiful natural setting make Heisenji a tourist destination not to be missed.
Echizen Daibutsu (Giant Buddha)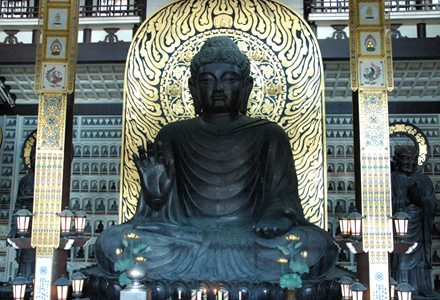 This giant bronze statue is based on the famous Buddha at Longmen Grottoes in China's Henan Province. At over 17 meters in height, the Echizen Daibutsu is larger than even the giant Buddha of Nara. On the three walls surrounding the statue there are over 1,281 smaller statues of stone and gold, as well as two large statues of arhat and bodhisattva on each side.
Benten Park Sakura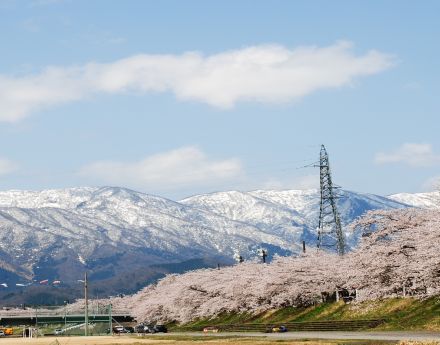 Running alongside the Kuzuryu River, Benten Park's 1.5 kilometers of sakura trees make it one of the best places in the prefecture to enjoy the beautiful cherry blossoms.
The Benten Sakura Festival held every year in mid-April draws people from far and wide who come to celebrate the beginning of spring under the beautiful pink and white blossoms.
Fukui Prefectural Dinosaur Museum ・ Dinosaur Forest

Over 80% of dinosaur fossils discovered in Japan have come from Katsuyama, which is why it is nicknamed 'The Dinosaur Kingdom.' Appropriately, Katsuyama is home to a first-class dinosaur museum, which is not only the largest in Japan but also one of the top three in the world. Inside of the egg-shaped Dinosaur hall, life-size models and over 30 full-scale skeletons will make you feel as if you have been transported back to prehistoric times. There is also a large screen dinosaur theater, a dinosaur lab where you can view a T-Rex skeleton up close, and many more fun activities, making this not just a museum, but a fully interactive experience to enjoy the fascinating world of the dinosaurs.
Surrounding the museum is the Katsuyama Dinosaur Forest. Here you can take part in a fossil digging experience, popular among kids and adults alike. There are also several playgrounds with dinosaur play equipment, and abundant nature trails perfect for hiking and exploring.
Yume Ole Katsuyama Textile Factory Memorial Hall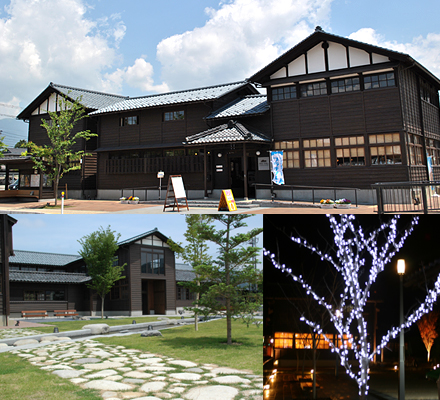 The building that is now the Yume Ole Textile Factory Memorial Hall was once one of the main textile production facilities in Katsuyama, operating from 1905 until 1998.
On the first floor you will find all kinds of information about Katsuyama introducing the unique and alluring aspects of the city. Whether at the cafe, the hand-weaving experience area, or the local merchandise shop, here you can enjoy many tastes and experiences found only in Katsuyama.
The second floor is a museum introducing Katsuyama's history as a textile town. In the history gallery and collection exhibit, you can view rich displays and authentic machinery that will make you feel as if you have gone back in time to a traditional 'Hataya' textile factory.
Outside in the Yume Ole Plaza, you can enjoy the open space and relax near the small stream that runs through the park.
This building is a designated cultural asset in Katsuyama city, and was recognized in 2007 as a national legacy from the industrialization period.
Ski Jam Katsuyama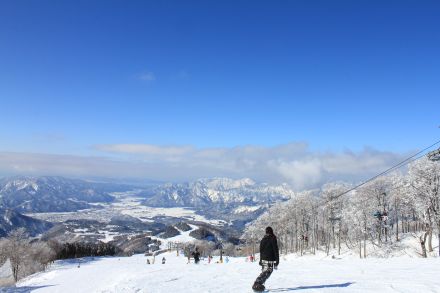 The largest ski resort in Western Japan, Ski Jam features 3 mountain parks and 12 different courses for both beginners and experts to enjoy. The resort's signature Hotel Harvest includes a natural hot springs and indoor pool.
Ski Jam is not only an ideal place to enjoy the snow and winter sports; it has an abundance of outdoor activities that can be enjoyed year round. Combined with the refreshing natural hot springs and top-class hotel, Ski Jam is a mountain resort to be enjoyed in all 4 seasons.


New Year Market Toshi no Ichi - A Katsuyama Winter Tradition for over 300 Years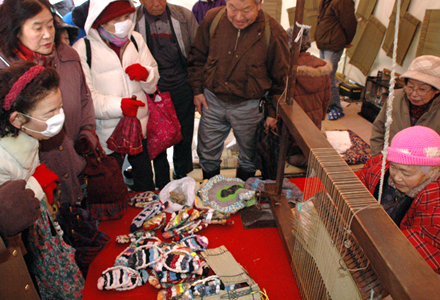 Traditionally held on December 26 by the lunar calendar, the new year market was a chance for farmers to sell things they had made during the winter and also buy items for the upcoming Shogatsu New Year holiday. This custom has been preserved to the present day, and you can still buy many traditional hand-made goods such as straw hats, snow shoes, mill stones, mallets, as well as vegetables, fish, and other food items. There is also an area where you can enjoy watching the amazing Mura Tatsujin (Village Masters), whose skills have been specially recognized by Fukui Prefecture.
Sagicho - A Fascinating Festival of Dance, Drums, and Fire

For over 300 years, the people of Katsuyama have celebrated the coming of spring with the Sagicho festival. Wearing traditional red coats, children and adults dance atop the 12 yagura (scaffold towers) that are put up around town, festively performing to the beat of the taiko drum accompanied by shamisen, flute, and gong bells. The close of Sagicho is celebrated with giant dondoyaki (bonfires), which serve as a prayer toward no fires in the coming year, as well as abundant harvests.


Taro Potatoes - A Nostalgic Hometown Taste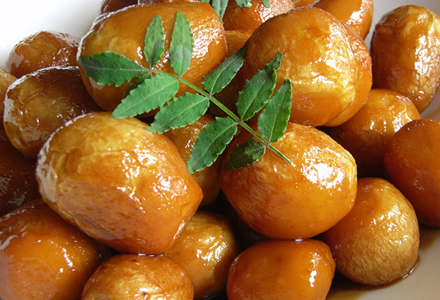 Katsuyama has been producing Taro potatoes as a special local product since the end of the 19th century. Katsuyama is located in an ideal valley basin surrounded on all 4 sides by mountains, and the temperature difference between night and day creates perfect conditions for growing high-quality taros. They have very unique flavor, and their meaty texture keeps them from falling apart when boiled. The soft skin and sweet taste have made them a very highly praised and popular local product.
Midi Tomatoes - Shiny as Rubies and Bursting with Flavor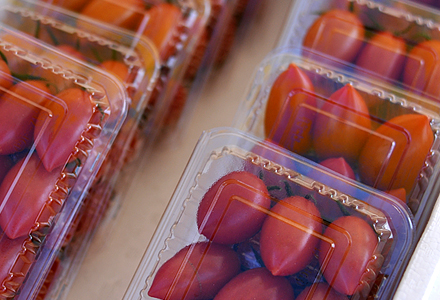 The 'Hana Rocket' Midi Tomato as well as Fukui Prefecture's famous 'Koshi Ruby' Midi Tomato are grown in Katsuyama's Heisenji region. The Koshi Ruby is slightly larger than a ping-pong ball, and the Hana Rocket, as the name suggests, looks like a bright ruby red rocket. These tomatoes have soft skin and stems that pop right off, and the light, non-acidic taste is so juicy it bursts in your mouth. With high temperatures during the day and cool nights, Katsuyama's climate creates ideal conditions to cultivate the perfect amount of sweetness, making these Midi Tomatoes very highly acclaimed.
Wakaino Melon - A Cantaloupe with an Elegant Aroma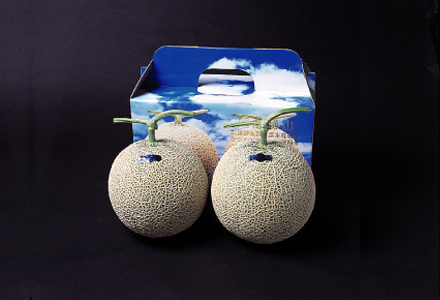 This melon is grown taking full advantage of Katsuyama's favorable climate of warm days and cool nights, giving it a delicious sweetness that is highly rated in the fruit market. With its soft inside and distinct aroma this melon is a delight to the senses, and is very popular as a gift.
Katsuyama Mizuna (Potherb Mustard) - A Vegetable that Heralds Spring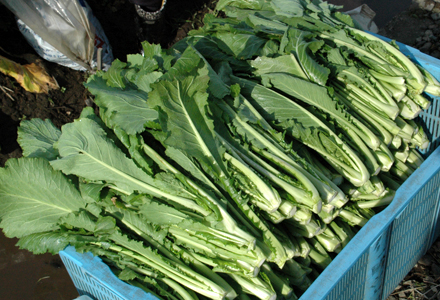 Mizuna has a rich history in Katsuyama that traces back to the Edo Period, over 400 years ago. Because the seeds are planted in late fall, lay dormant in the winter, then can be harvested in early spring, it is grown almost entirely pesticide-free. Its thick stalk, surprising softness, and subtle bittersweet taste make it a very popular spring vegetable. It is delicious served boiled, with rice, in chazuke soup, and many other ways. Also, it has recently been discovered that it is full of antioxidants that are effective in preventing cancer and other illnesses, earning it great attention as a health food.
Echizen Katsuyama Soba (Buckwheat Noodles) - Simple, Natural, Delicious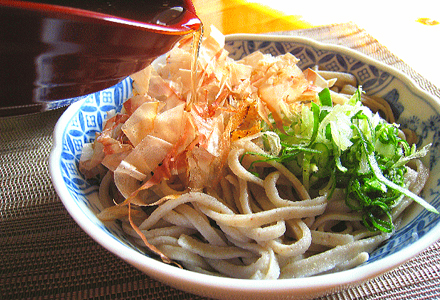 Katsuyama's climate is perfect for growing tasty, nutrient-rich buckwheat, making it one of the top regions for soba in the prefecture. Grown with the pure water of the Kuzuryu River, this soba is rich in aroma and flavor, and well-loved not only in Katsuyama, but all across Japan. Take a bite and you can sense the beautiful natural environment the buckwheat was grown in. Soba can be enjoyed year-round at many local shops and restaurants. Be sure to try Oroshi Soba; the combination of soba noodles and oroshi (grated radish) is absolutely divine.
Matured Mackerel Sushi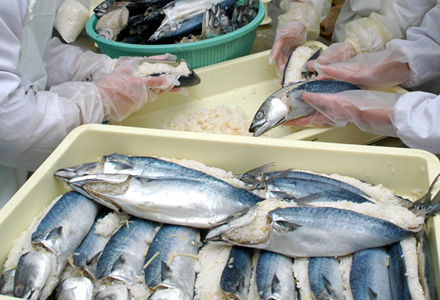 Katsuyama is located quite far away from the sea, so in the olden days seafood was quite a precious item. Because of this, fish was often preserved using things like Koji yeast and vinegar, and this tradition has been passed on through the generations as a local home-style taste. For the people in early Katsuyama, this matured mackerel was a great source of protein to help make it through the long, harsh winter.
This product is made with rice from Katsuyama, domestic mackerel, and is pickled using the same safe process as hundreds of years ago. While carefully monitoring the temperature changes, it is pickled over the span of about 40 days. Katsuyama's matured mackerel sushi has no odor and its flavor is somewhat similar to cheese, making it a perfect accompaniment to sake.
Nomuki Egoma (Perilla) - A Plant that Helps Build a Healthy Body
Nomuki Egoma is grown in the hilly region at the base of Katsuyama's Mt. Takao, amid beautiful nature and clean water. The perilla plant can be made into oil among many other uses, and growing it has been helpful in revitalizing the area. The perilla is an annual plant in the mint family, and is very similar to aojiso (green perilla) in appearance and smell. In recent years, perilla has gained attention for its ability to help burn body fat. Why not try drizzling some Nomuki Egoma on your food or in your drink to improve your health and body?
Echizen Green Onions - A Delicious Mix between Sharp and Sweet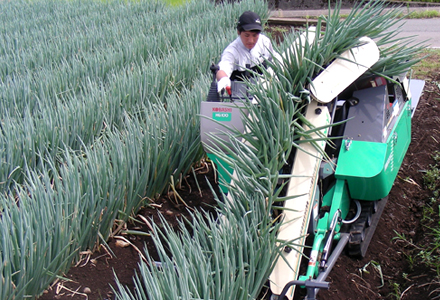 A unique feature of Katsuyama's green onions is that they are grown in water-filled paddy fields. The nutrient-rich soil and water drainage create ideal conditions for growing onions. Because of this environment, the onions are sweeter than those grown in drier soil, and have are even more so when cooked. Katsuyama's green onions are great served as a condiment, grilled, or added to soups. Please try this unique and delicious green onion.